Licensed Pest & Termite Inspections for CT mortgages, including FHA, VA and conventional.  Approved licensed pest inspections for your mortgage refinancing of FHA, VA and conventional mortgages as well.  If you are obtaining a loan to buy or refinance your house, you'll find that institutional lenders REQUIRE that a pest inspection or termite inspection be ordered.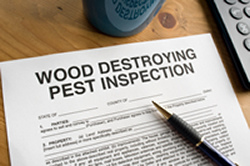 Your lender is concerned – and rightly so – that it might be lending its money to buy a house that is infested with insects that have or will harm the property's structure.
If that were the case, the mortgage loan that is being given to you could never be recouped by the lender since the house will be devalued greatly by the little pests. YOU should be just as concerned, because the house that you've contracted to purchase for $200,000.00 plus may be worth a lot less with termites in it.
"Pest Inspection" or "Termite Inspection" is the popular term. However, the inspection actually encompasses all "wood destroying insects". Termites happen to be the most prevalent of these wood destroying pests.  They also include, carpenter ants, carpenter bees and wood boring beetles.
In Connecticut, a good Contract of Sale (Purchase Agreement) for the home you are purchasing should be contingent upon the results of a pest inspection or termite report.  Most often, there is a provision placed into the Contract of Sale (Purchase Agreement) giving you, the buyer, a short time period within which to have the house inspected for wood destroying insects. It is usually fourteen days from the full execution of the Contract of Sale (Purchase Agreement) but it can vary.
In other words, immediately after receiving a fully-signed Contract of Sale (Purchase Agreement), you should make an appointment with a licensed pest inspector or pest inspection company to go to the house and inspect it for termites.
If an active infestation results,  and you have a Pest Inspection Contingency in your Purchase Agreement, the seller will either have to remedy the problem to your satisfaction at their expense or release you from contractually obligations if you so choose.
Call our testing specialists today to schedule an appointment 888-558-1574